Kako biti bezbedan na Instagram
Profili sa većim brojem pratilaca su najviše targetovani od strane ljudi koji žele da ukradu nalog za prodaju ili upotrebe za dalje širenje prevare.
U prethodna 2 meseca su mi se javljali ljudi kojima je ukraden profil.

Kako im uspešno prođe krađa profila?
Najviše se dešava da vam stigne u inbox poruka navodno od profila koji u imenu sadrži vezano za Instagram u slikama videćete detalje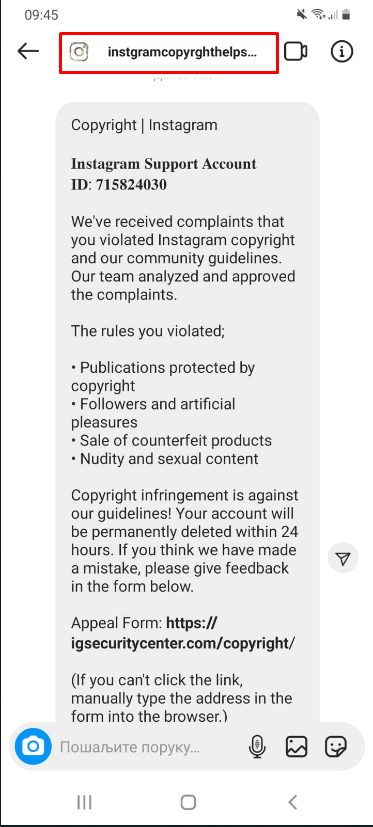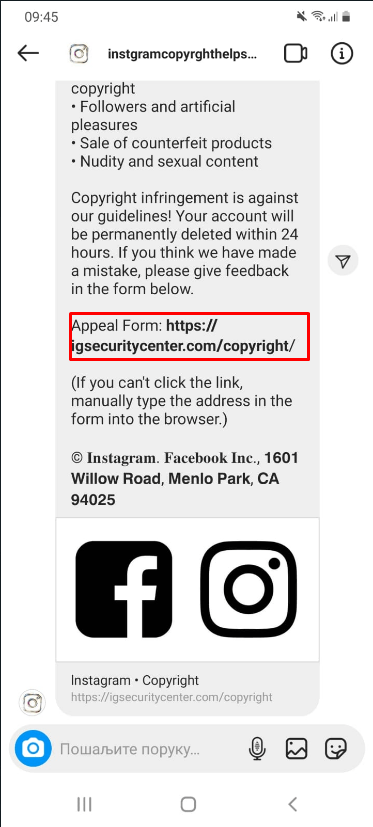 Ovde na prvi pogled deluje realno i donekle uredno, ali bilo koji prekršaj da ste napravili Instagram bi vas obavestio putem emaila koji bi mogli da potvrdite da stvarno dolazi od njih proverom u Instagram aplikaciji u settings(podešavanja)> Security(sigurnost)> Emails from Instagram. Tu možete potvrditi da li vam je email stigo stvarno od Instagrama ili je samo pokušaj krađe podataka. Ukoliko ste teže prekršili smernice Instagrama vaša objava će biti obrisana ili nalog ugašen.
Ovde izgleda realno ali u biznis menadzeru kada se otvore poruke stoji sasvim drugo ime obično je dzrn ili nešto što nema veze sa Instagramom.
Kada dobijete ovakvu poruku u inbox malo je neprijatno ali pre nego da krene panika detaljno pogledajte sve u toj poruci ili pitajte nekog ko se bavi računarima da proveri.
Kada kliknete ili ukucate link koji su vam oni poslali tražiće da unesete korisničko ime i lozinku, dok vi to uradite tada dolazi do krađe kolačića i lozinke, kada to unesete oni će proveriti sa koje ip adrese je žrtva došla i čekati da u toj državi bude 3-4 ujutru i izvršiti krađu profila kada spavate, jer im daje prednost od minimum 4h dok se probudite i shvatite da je profil ukraden i da proverite i kliknete ukoliko postoji mogućnost vraćanje profila.
Kako osigurati Instagram profil?
Svojim klijentima kada počnu saradnju samnom obavezno objašnjavam kako da zaštite svoj nalog. Bilo da li je klijent ili ne uvek stojim na raspolaganju oko bilo kog problema.
Prvi korak je podešavanje dvostruke autorizacije to možete uraditi ovako: settings(podešavanja) Security (bezbednost) Two-factor authentication (dvostruka autorizacija), idete text poruke tu unesete broj telefona (za početak dovoljne su poruke sa kodom na svaki novi uređaj), potvrdite i sačuvajte kodove koje vam Instagram pokaže. Ti kodovi služe da možete da se ulogujete novim uređajem ukoliko vam je uređaj koji uvek koristite u kvaru ili niste i mogućnosti da dobijete SMS sa kodom za login.
Zaključak
Kada vam stignu ovakve poruke ne paničite već samo ignorišite ovakve poruke ukoliko vas i dalje brine pitajte nekoga ko se bavi računarima i ima iskustva u Internet oblasti.
Za bilo kakvu pomoć stojim na raspolaganju od 6 do 20h svakog dana
Ukoliko imate pitanje ostavite komentar ili me kontaktirajte na +381638900389 Viber/Whatsapp
Na svojim blogovima pišem svake nedelje kako se reklamirati na Facebook, kako optimizovati web sajt(SEO optimizacija), kako biti bezbedan na internetu, i uskoro kako zaštititi decu na internetu, proveravati šta rade i kako da pronađete lokaciju deteta kada nije kući preko mobilnog telefona ili pametnog sata